Three Reasons You Need A Premarital Agreement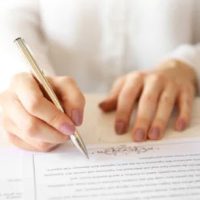 There has been a significant increase in the number of couples drafting premarital agreements before they get married over recent years. Traditionally, premarital agreements have been seen by marrying couples as romance killers that were nothing more than a plan for divorce. Many people found it very difficult just to broach the subject with their betrothed.
Fortunately, today that is no longer the case. Couples are much more open to the concept of a premarital agreement today, and many will not consider getting married without one. This is good news, as these contracts have many benefits. Below, our Brandon family lawyer outlines the biggest three.
Understanding Your Financial Obligations
Most people have certain property they would like to protect from property division hearings in the event that they get a divorce. For example, if a spouse owned a business prior to the marriage, it would be considered separate property for that period of time. Once the business owner got married though, it is likely that the business will be used to contribute to the needs of the household. This would make it marital property instead of separate and all marital property is subject to division in divorce proceedings. A premarital agreement can stop this from happening.
As long as a premarital agreement is deemed fair by the family courts, judges will follow the terms within it before they comply with the law. So, when one spouse includes property within a premarital agreement, it can give them peace of mind that they will not lose it in divorce, even if it is technically considered marital property.
Avoid Arguments About Money
Traditionally and today, arguments about money have been one of the most common causes of divorce. Many of these arguments occur because the couple never fully talked about their money issues prior to the marriage. When drafting a premarital agreement, it forces people to talk about all of their financial issues, from the assets they own to the debt they owe. All of these financial issues can then be included in a premarital agreement so there are no surprises during the marriage, or during divorce.
Opening the Lines of Communication
It is essential that both parties are completely honest with each other and that they can communicate properly while discussing the terms of the premarital agreement. This is to ensure the agreement is fair, as this is the only way a court will enforce it. Still, opening the lines of communication is not only beneficial when creating a premarital agreement, but it also holds benefits for the marriage as well, as both people will know how to be open and honest with each other.
Our Family Lawyer in Brandon Can Help with Your Premarital Agreement
If you are getting married and would like to draft a premarital agreement, our Brandon family lawyer at Koether Law can help. Our skilled attorney will ensure your agreement is fair and enforceable by the court so you can rely on it in the event you ever need it. Call us today at 813-347-8193 or contact us online to schedule a confidential consultation and to learn more about how we can help.