Are You Headed For Divorce? Here Are Four Signs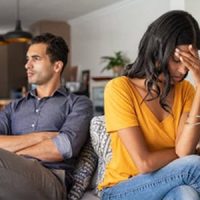 Marriage is a beautiful thing, but there are times when spouses will disagree and other conflicts may arise. When that is the case, it is often difficult for people to clearly determine whether these are just the regular bumps in the road all spouses face, or whether it is time for divorce. If things have been difficult between you and your spouse lately and you are wondering if it is time to end your marriage, below are four signs that divorce may be the right option.
You are Constantly Arguing
No couple always agrees with each other all the time, and some arguments in a marriage are not only to be expected, but they are also healthy. However, if you and your spouse are constantly living in conflict, this is unhealthy. This is especially true if you have children that are witnessing the constant arguments, as they will also feel the stress of the situation. If you and your spouse have been fighting more than you used to for an extended period of time, or you feel as though it is now all you do, it may be a sign that it is time for divorce.
You Disagree, but No Longer Argue
If you find that your spouse and you are disagreeing more than usual, but you are also not arguing, that also may be a sign that it is time for divorce. Some degree of fighting is actually healthy in a marriage. It means that you and your spouse care about each other enough to try and work out your differences. If you and your spouse have started giving each other the cold shoulder on a regular basis, or you simply do not care enough to try and work things out, it may mean you no longer have any interest in fighting for your marriage.
You Overcompensate on Social Media
It is not uncommon for people to want to convince others, and themselves, that everything is fine the worse their marriage gets. One way they do this is by posting regularly to social media sites, such as Facebook. These individuals may post regular updates and pictures showing their marriage is happy and healthy. If you have found yourself sharing posts that do not reflect your true feelings about your marriage, it may be a sign that you would be happier if you got a divorce.
You have Already Started to Prepare for the Process
There are many steps people should take to prepare for the divorce process. They should remove spouses as an authorized user from their credit card, and they should open a new bank account that is for their use only. If you have started taking these steps "just in case" your marriage ends, it is likely that divorce is imminent and it may be time to file.
Call Our Divorce Lawyer in Brandon when You are Ready to Start the Process
If you think your marriage is over and want to file for divorce, our Brandon divorce lawyer at Koether Law, P.A. can provide the sound legal advice you need. Call us today at 813-347-8193 or contact us online to schedule a confidential consultation and to learn more about how we can help.