What Is The Child Support Formula In Florida?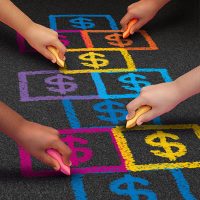 Most people understand the concept of child support, but they do not know how it is calculated by Florida courts during divorce. Just because one parent of four was ordered to pay a certain amount of support does not automatically mean a parent of only two children will be able to pay less. Understanding how child support is calculated can help you avoid unpleasant surprises in court because you will know what to expect.
Florida Law Follows an Income Shares Model
All parents in Florida are expected to financially provide for their child, even after a marriage ends. The Florida family courts use an Income Shares Model when calculating the amount of support one spouse has to pay. The court will estimate how much the parents would have spent together on the child if they had not gotten a divorce. The amount is then divided between the two parents using their incomes.
The child support law in Florida is presumptive, meaning judges must follow the guidelines outlined in the statute. Still, family law judges can use some discretion when ordering child support. Judges can order a parent to pay five percent below or above the amount using the guidelines. If the court wants to deviate from the guidelines in an amount that exceeds five percent, they need to include a written detailed reason for the deviation.
Can Parents Avoid Paying Child Support?
Child support can cost a parent hundreds of dollars every month after divorce. It is no surprise it can easily become one of the most contentious issues during divorce. Sometimes, parents go to great lengths to avoid paying child support, such as quitting their job or reducing their hours to minimize the amount they have to pay.
Florida law allows the court to use an imputed income when a spouse is trying to avoid paying child support. When using an imputed income, the court will estimate the amount of income a parent would earn if they worked a full-time job. They will then use this imputed income to determine how much child support the parent must pay.
Additional Expenses
There are many expenses associated with having children aside from their daily needs. These include healthcare premiums, educational expenses, and child care expenses. The court will divide these costs between the parents and they are considered to be above and beyond child support. These expenses can either be divided evenly, or one parent may pay for one expense while another covers a different cost.
Our Family Lawyer in Brandon Can Help with Child Support Issues
Although calculating child support is fairly straightforward, it is still important to work with an experienced Brandon family lawyer. At Koether Law, P.A., our knowledgeable attorneys can guide you through the process, make sure all of the paperwork is filled out correctly, and give you the best chance of a positive outcome in your case. Call us today at 813-347-8193 or contact us online to schedule a confidential consultation and to obtain the sound legal advice you need.