5 Things To Know About Postnuptial Agreements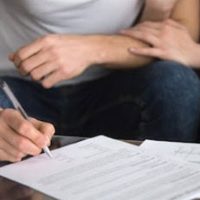 Many people understand the concept of premarital agreements and what they are used for. Although some people draft these legal documents before they get married, sometimes people do not realize they need one until after they are already married. For example, one spouse may start a business during the marriage and they want to ensure it is protected in the future. To ensure it is, they can draft a postnuptial agreement. If you think you need a postnuptial agreement, below are five things you need to know.
Postnuptial Agreements Focus on Property Division Issues
Property division issues can become very contentious and ugly during divorce. It is natural for people to become emotional and make decisions that could hurt them in the future. A postnuptial agreement can help you define your marital property and your separate property while cooler heads still prevail.
You Must Work Together
Not all postnuptial agreements are upheld by the family courts. To ensure your agreement provides the protection you think it does, both you and your spouse must provide full financial disclosure. If it is found that either party was hiding assets, the entire agreement could be deemed void. You both must also draft the agreement together and sign it voluntarily. Prenuptial agreements signed under duress are never enforced by the courts.
Postnuptial Agreements Protect Both Parties
Postnuptial agreements are not meant to favor one spouse over the other. When drafting your agreement, a lawyer will advise you of your rights and responsibilities. They will also inform you of the property division law in Florida. If there is ever a provision that is unfair to you, a lawyer will advise you of that fact before you sign it.
Postnuptial Agreements Prepare You for the Unexpected
Like prenuptial agreements, a postnuptial agreement will ensure you are prepared in the event that your marriage ends. These legal documents are only meant to outline certain terms involved in a divorce. They are not romance killers and are not a guarantee that the marriage will end. Like modifying an estate plan after a major life change, creating a postnuptial agreement is simply about getting the protection you did not have before.
A Postnuptial Agreement Can Change a Prenuptial Agreement
Many people know they need to protect their financial future and so, they sign a prenuptial agreement before they get married. Several years later, though, the provisions outlined in the prenup may no longer be practical. For example, if a prenup outlined one spouse's business as separate property, a postnuptial agreement can classify it as marital property if the other spouse became heavily involved in the company during the marriage.
Our Family Lawyer in Brandon Can Draft Your Agreement
When drafting any legal document, it is important to work with a Brandon family lawyer, and this is true for postnuptial agreements, too. At Koether Law, P.A., our seasoned attorney can help you change the terms of a prenup,  or draft a postnuptial agreement that will provide the protection you need. Call us now at 813-347-8193 or reach out to us online to schedule a consultation.
Sources:
leg.state.fl.us/statutes/index.cfm?App_mode=Display_Statute&URL=0000-0099/0061/0061.html
leg.state.fl.us/Statutes/index.cfm?App_mode=Display_Statute&URL=0000-0099/0061/Sections/0061.079.html