Why Should You Draft A Postnuptial Agreement?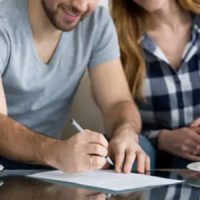 Premarital agreements are much more common today than they once were but still, some couples do not want to broach the topic as they are planning their wedding. After a couple has settled into married life, they may begin to feel more comfortable about their finances, or circumstances may change that leave one spouse feeling as though they want the protection premarital agreements provide. In these instances, a postnuptial agreement can be very beneficial.
Postnuptial agreements hold all the same benefits as premarital agreements, but they are drafted after a couple is married. Below, our Brandon prenuptial agreement outlines when you should draft such a contract.
You Started a Business
It is not uncommon for one spouse to start a business after they get married. Under the law, these businesses are usually considered marital property, particularly if household funds were used to start it, or if the profits contributed to the household. Using a postnuptial agreement, you can classify your business as separate property, which would shield it from property division hearings in the event you get a divorce.
The Income of You or Your Spouse has Significantly Changed
When people marry, particularly when they are quite young, they may not have accumulated a great deal of wealth and they may just be starting out in their career. As people continue to work and further their career during their marriage, their income may significantly change. A postnuptial agreement can ensure that the lower-income spouse does not suffer financial harm in the event of divorce by providing them with alimony or certain assets.
You Previously Filed for Divorce, but Reconciled
Sometimes a couple decides to get a divorce and they may even file the papers and start the process. Before the divorce is finalized, though, a couple may reconcile and decide not to go through with it after all. In these cases, the couple may eventually find that they cannot work through their differences and start the process again. A postnuptial agreement can help streamline the process so it is recommended that you draft one if you have already considered divorce.
You Have Children from a Previous Marriage
If you have children from a previous marriage, a divorce could greatly impact the inheritance they receive. While your spouse will not receive any parenting time if they have not officially adopted the child, the division of property process can result in your spouse receiving assets that would have otherwise gone to your children.
Our Prenuptial Agreement Attorney in Brandon Can Draft Your Agreement
If you did not draft a prenuptial agreement before you were married and now need the protection they can provide, our Brandon prenuptial agreement attorney can help. At Koether Law, P.A., our seasoned attorney can advise on the terms to include within your agreement, and draft a contract that is legally binding and enforceable by the courts. Call us now at 813-347-8193 or contact us online to schedule a consultation and to learn more about how we can help.
Sources:
leg.state.fl.us/Statutes/index.cfm?App_mode=Display_Statute&URL=0000-0099/0061/Sections/0061.079.html
leg.state.fl.us/statutes/index.cfm?App_mode=Display_Statute&URL=0000-0099/0061/0061.html