Want A Separation? Use A Postnuptial Agreement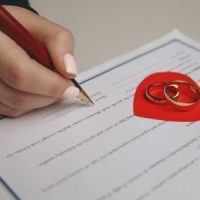 For some couples, getting legally separated has many benefits over getting a divorce. Legal separation allows some couples to live separately and apart for a period of time, which can help each person determine if they want to go through with the divorce. Getting legally separated can also allow people to separate from their spouse if they cannot divorce for religious purposes,  or for other reasons. However, getting legally separated is not possible in Florida, as the law does not allow it. Still, if you want to separate from your spouse without getting a divorce, it is possible by drafting a postnuptial agreement.
Using a Postnuptial Agreement as a Legal Separation
Postnuptial agreements are very similar to premarital agreements. A postnuptial agreement allows you and your spouse to agree to certain terms such as property division and alimony. The difference is that while premarital agreements are drafted before the wedding, postnuptial agreements are signed once the couple is already married. Due to this difference, a postnuptial agreement can allow two spouses to separate, even though it will not be considered a legal separation.
A postnuptial agreement outlines all the terms of a divorce, even if a couple is not getting one. These documents are simply contracts and so, it is possible to include a provision stating that the terms apply even though the couple is staying married. After the postnuptial agreement is signed, the two parties can separate while protecting their own interests. Any time one person violates the terms of the contract after it is signed, the other party can take them to court to enforce the agreement.
Terms to Include, and Not Include, in Your Postnuptial Agreement
There are many terms you should include in your postnuptial agreement. These include:
Which party, if any, will remain in the family home
The amount of alimony to be paid by one spouse
When alimony payments will be made, and how
How marital assets and liabilities will be divided
Although the above terms are important to include in a postnuptial agreement, there are also terms you should not include. For example, Florida law prohibits child custody and child support to be determined in postnuptial agreements.
Only the family courts can make these decisions and they will do so using the child's best interests as the only determining factor. It is also important to note that if a judge finds any provision in the agreement unfair, they can also strike it out of the agreement.
Our Prenuptial Agreement Lawyer in Brandon Can Help You Draft Your Contract
Even though the law in Florida does not allow couples to legally separate, there are other options available that can outline the same terms, such as drafting a postnuptial agreement. At Koether Law, P.A., our Brandon prenuptial agreement lawyer can draft a contract that will protect your interests and that will be deemed enforceable in case a future dispute arises. Call us now at 813-347-8193 or contact us online to schedule a consultation and to obtain the legal advice you need.
Sources:
leg.state.fl.us/statutes/index.cfm?App_mode=Display_Statute&URL=0000-0099/0061/0061.html
leg.state.fl.us/statutes/index.cfm?App_mode=Display_Statute&URL=0000-0099/0061/Sections/0061.075.html