Five Common Mistakes to Avoid when Drafting a Prenuptial Agreement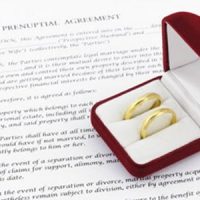 No one wants to think about divorce before they have even gotten married. However, a little forward thinking and planning will go a long way in case you ever do get a divorce in the future. Prenuptial agreements are becoming more popular today for this very reason. Many people do not realize that there are many laws regarding premarital agreements and if yours is not drafted properly, it may not provide the protection you had hoped for. Below, our Brandon prenuptial agreement attorney outlines the five most common mistakes with these legal documents, and how to avoid them.
Not Talking About It 
Being reluctant to talk about divorce at the same time you are planning a wedding is completely natural. Still, divorce is a possibility in any marriage and you should be able to talk honestly and openly with your future spouse. Tell your partner about any fears or concerns you have, and make sure these conversations include any financial issues you think may arise, as well.
Being Emotional 
It is easy to become emotional when talking about marriage, divorce, and money matters. When having these discussions with your partner, though, it is important to try and keep calm and keep emotions out of it. Try to talk strictly about the facts as you sort out your current and future financial issues. This is the best way to build a strong foundation that can help you both make better financial decisions in the future.
Waiting Too Long
 One of the main laws regarding prenuptial agreements is that both parties must enter into the contract willingly. If the court believes that one person was under duress when they signed it, the agreement will be rendered void and the court will not uphold it. To avoid this, it is usually best to draft a prenuptial agreement at least two or three months prior to the wedding.
Not Providing Full Disclosure 
Another main law pertaining to prenuptial agreements is that both parties must provide full disclosure about their financial situation. This includes telling your future spouse about not only the assets and property you have, but also any debt you are carrying. If it is found that one party was not entirely truthful when drafting the agreement, the court will once again render it void and unenforceable. While it may be uncomfortable to talk about these matters, it can also help create a solid foundation on which you can build a life together.
Not Contacting a Prenuptial Agreement Attorney in Brandon First 
You are not required to work with a Brandon prenuptial agreement attorney when drafting a contract, but it is always recommended that you do. At Koether Law,  P.A., our experienced attorney can help you draft an agreement that will protect your rights now and in the future, and that will be enforced by the courts. Call us now at 813-347-8193 or contact us online to schedule a consultation and to obtain the legal advice you need.
Source:
leg.state.fl.us/Statutes/index.cfm?App_mode=Display_Statute&URL=0000-0099/0061/Sections/0061.079.html