How is Debt Handled During Divorce?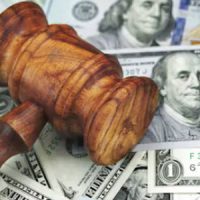 Many people are aware that divorce involves the process of dividing the marital assets between the two parties. However, all marital property is subject to division, and that includes marital debt. Due to the fact that creditors and lenders are not legally bound by the terms of a divorce decree, post-divorce debt can become very confusing. After a case is finalized, one party may no longer be responsible for the debt, yet creditors are still contacting them asking for payment. In other cases, people may find out their former spouse has been delinquent in repaying debt, and their credit score has lowered because of it.
If you are getting a divorce it is important to know that all marital property, including debt, is divided during divorce. Our Brandon property division lawyer explains how debts are handled during divorce below.
How to Handle Joint Debt 
Married spouses will often incur joint debt, meaning that both names appear on the loan, credit card, or other debtor account. In these cases, both spouses are legally responsible for repaying the debt. Even if after divorce, only one party is required to repay the debt, lenders and creditors will still continue to contact all names on the account. If the debt is not paid, lenders will report all borrowers to the credit reporting agencies, which could cause one person's credit score to drop. Any joint debt should be paid before a divorce is finalized, or refinanced in one party's name only.
Selling Assets 
If you are assigned debt during divorce and feel at any point that you cannot repay it, you may want to consider selling property to repay the debt. This makes particular sense when you sell the property that incurred the debt in the first place. For example, you and your spouse may decide during the divorce process to sell the family home, repay the mortgage in full, and divide any remaining proceeds.
Negotiating the Division of Debt 
If you and your spouse are getting a divorce, it is usually best to reach an agreement with your partner outside of the courtroom. This will allow you to create a customized solution that works for everyone instead of a judge making the final decision. A lawyer can advise you of the potential issues related to your debt and make recommendations on how to resolve them. A lawyer can also negotiate with your former spouse to determine how the debt will be divided.
Our Property Division Attorney in Brandon Provides Sound Legal Advice 
If you are going through a divorce, it is critical to understand how your debt will be handled during the process. At Koether Law, P.A., our Brandon property division attorney can review the facts of your case, advise on how to handle your marital debt, and negotiate with the other side effectively so you have the best chance of success. Call us now at 813-347-8193 or contact us online to request a consultation and to get more information.
Source:
leg.state.fl.us/statutes/index.cfm?App_mode=Display_Statute&URL=0000-0099/0061/0061.html