The Do's And Do Not's Of Child Custody Litigation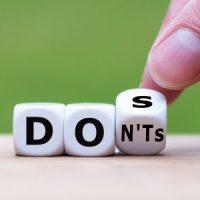 Disputes involving child custody, or parenting time as it is known in Florida, are extremely emotional for the parents going through them. Constantly arguing with your spouse or former spouse about scheduling, parenting decisions, and more will leave you exhausted and you might not always make the best decisions. Making the wrong choice now or taking certain actions may actually hurt your case in the future, and result in reduced time spent with your child. To prevent this from happening, it is essential that you know what to do, and what not to do, when going through the process of parenting time litigation.
Do Remain Respectful During Court Hearings
Issues involving parenting time are extremely emotional and it is easy to let those emotions overcome you during court hearings. If you become angry or speak out of turn, though, it may appear to the judge that you are being rude or disrespectful to the court. During parenting time hearings, the judge wants to see that you are able to co-parent peacefully with your spouse even after the divorce is final. If you cannot show that by keeping your emotions in check, it could affect the amount of parenting time you are awarded.
Do Not Get in Trouble with the Law
It is true that if you get a minor traffic infraction, such as a small speeding ticket, it will not likely affect your parenting time proceedings. However, if you get into significant trouble with the law, such as being arrested or convicted of driving under the influence, it could have a very serious impact on your case. It is of the utmost importance that you do not get arrested while you are going through the process of parenting time litigation. If you do, your spouse will likely use it against you to show that awarding you parenting time may actually endanger your child.
Do Stay Off Social Media
You may view social media as a great place to go and vent about your divorce proceeding. This is actually one of the worst things you can do. Again, your spouse will use anything they can against you, including your social media posts. They may even copy your pictures and take them out of context to show that you are an unfit parent. During parenting time proceedings, and throughout your entire case, stay off social media and know that you are better safe than sorry.
Do Not Ignore Temporary Parenting Time Orders
A family law judge may issue many temporary orders at the beginning of your divorce case, including those pertaining to parenting time. If you do not comply with these orders, a judge will presume that you will not follow the final orders either and so, they may decide in favor of your spouse.
Do Speak to Our Child Custody Attorney in Brandon
Divorce is always difficult, but it becomes particularly emotional when children are involved. At Koether Law, P.A., our Brandon child custody attorney can help you through the proceedings to make sure your rights are protected. Call us now at 813-347-8193 or contact us online to schedule a consultation and to learn more.
Source:
leg.state.fl.us/statutes/index.cfm?App_mode=Display_Statute&URL=0000-0099/0061/Sections/0061.13.html