Four Benefits Of Mediation During Divorce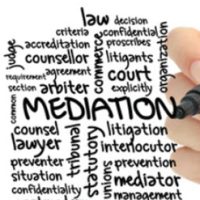 The backlog of the Florida family courts is notorious. To ensure that cases proceed smoothly and as quickly as possible to clear up some of this backlog, most divorces must enter mediation before litigation, or a divorce trial, is an option. Mediation involves both parties meeting with a mediator to try and reach an agreement about the issues without the need for court intervention. Mediators are neutral third parties and their only role is to help each party compromise and reach an agreement.
Not everyone gives mediation a fair shot when they are getting divorce. However, there are many benefits associated with resolving your issues at this stage. Below, our Brandon divorce mediation lawyer explains further.
Get a Faster Divorce
Going through a divorce trial can take several years until your issues are resolved. If you are open to the mediation process and make a real effort to resolve your issues, you may only need to attend one or two mediation sessions. This can mean instead of your divorce taking years, it may only take a matter of weeks.
Get a Cheaper Divorce
Litigated divorces are expensive. They take longer and that by its very nature, adds to the attorney's fees and court fees associated with a divorce trial. It is no secret that divorce is expensive and most people going through it want to keep the cost down as much as possible. Mediation is much faster and with fewer people needed to assist with the process, that also makes it cheaper.
Confidential Proceedings
Divorce is a very personal matter and few people want the details to be known by others. Anything that happens during court proceedings becomes public record. That means that anyone can look up the records and learn what happened during proceedings. Few people may go to this effort to learn the details about another person's divorce, but for those who want to keep matters confidential, mediation is a great option.
Better Relationships Post-Divorce
Even if a divorce case is not contentious before it enters litigation, things become much more combative during the trial. Both parties can become bitter and hostile, particularly if things do not go their way. During mediation, spouses learn to work with each other to solve their disputes, and this newly formed skill can be a great help when moving forward post-divorce. Couples who can successfully mediate their divorce are less likely to become involved in child custody or alimony disputes in the future.
Our Divorce Mediation Lawyer in Brandon Can Help You Through the Process
If you have made the difficult decision to end your marriage, our Brandon divorce mediation lawyer at Koether Law, P.A. can help ensure success during the process. Our seasoned attorney has helped many clients resolve their issues during mediation, and we will put our experience to work for you. Call us now at 813-347-8193 or reach out to us online to schedule a consultation and to learn more about how we can help with your case.
Sources:
leg.state.fl.us/statutes/index.cfm?App_mode=Display_Statute&URL=0000-0099/0061/0061.html
leg.state.fl.us/Statutes/index.cfm?App_mode=Display_Statute&URL=0000-0099/0044/0044.html