Does It Matter Who Files For Divorce First?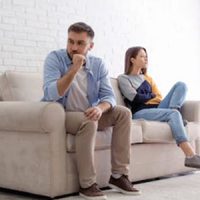 Some people when considering divorce want to take some time before filing to make sure their marriage cannot be repaired. Others, though, often wonder if there is an advantage to filing first and whether doing so will help them receive a better outcome in their case. Legally speaking, there is no advantage to filing for divorce first and judges will not consider it when making decisions on terms such as alimony and child custody. However, being the first to file before your spouse does have some benefits. Below, our Brandon divorce lawyer explains what these benefits are.
Divorce Laws in Florida
Like all states, the Florida Statutes set out clear laws pertaining to divorces in the state. For example, Florida is a no-fault divorce state, meaning whichever spouse files first cannot allege the other party is responsible for the breakdown of the marriage. They must only state the relationship is irretrievably broken. As such, even if your spouse was the reason the marriage failed, it still does not matter if you file first.
Florida has many different pieces of legislation aside from the no-fault law. For example, when decisions about child custody are made, a judge will only consider what is in the best interests of the child. There are many factors considered, but which party filed for divorce first is not one of them. However, certain misconduct is considered, such as whether a spouse has a substance abuse problem or a history of domestic violence. Still, these factors are considered even if the spouse who did not engage in misconduct is not the first to file for divorce.
Benefits of Filing for Divorce First
Even though the courts will not consider which party filed for divorce first, there are benefits to doing so. These include:
Time to prepare: If your spouse files for divorce first, you will have a limited amount of time to take action. For example, you have only 20 days to respond to the petition once it is served to you. If you are the first to file, you can take more time to collect important paperwork, start separating your accounts, and take the other necessary actions to prepare.
Preserve evidence: Spouses sometimes fear that their partner will try to hide assets or important documents that could protect them and hurt the other party. If you file first, you can take pictures of important assets and documents and take other steps to ensure your spouse does not conceal marital assets.
Closure: It is never easy to end a marriage, even when it involves toxic behavior or becomes an unhealthy situation. Being the first to file is often enough to make a person feel in control of their circumstances and provide the closure that is necessary.
Our Divorce Attorney in Brandon Can Answer Your Questions
If you are thinking about ending your marriage, our Brandon divorce attorney at Koether Law, P.A. can answer all of your questions so you can make informed decisions and obtain a favorable outcome. Call us now at 813-347-8193 or contact us online to schedule a consultation and to obtain the help you need.
Source:
leg.state.fl.us/statutes/index.cfm?App_mode=Display_Statute&URL=0000-0099/0061/0061.html