5 Common Questions During Divorce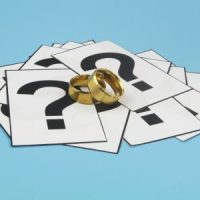 Going through a divorce is a confusing time. You will feel many emotions, have to make important decisions, and think about protecting your future. It can all be very overwhelming and you will likely have many questions. Below, our Brandon divorce attorney provides the answers to five of the most common questions we hear.
What Will Happen to the Children? 
They say that divorce is hardest on the kids. It is critical to protect them before, during, and after the process. Any decisions made regarding the children should reflect what is in their best interests. The courts begin any time-sharing dispute with the presumption that it is in the child's best interests to spend time with both parents. The only exception to this is when there is a history of substance abuse, neglect, or physical or mental abuse.
How is Property Divided? 
Unless a premarital or postnuptial agreement states otherwise, marital property is divided fairly, although not necessarily equally, during divorce. The law on property division during divorce is known as equitable distribution. Both parties must provide full financial disclosure so each side is aware of all marital property to be divided.
How is Alimony Determined? 
If you are thinking about pursuing alimony, or you believe your spouse will make unfair demands for it, there are specific factors a court will consider. First and foremost, the need of the requesting party and the ability of the other spouse to pay are considered. The length of the marriage is also considered. Alimony is unlikely to be awarded after a short marriage, while a person can receive spousal support for a longer period of time after a lengthy marriage. There are also different types of alimony, with permanent support rarely being awarded.
How is Child Support Decided? 
There is a specific formula the courts use to determine the amount of child support to be paid. In most situations, the parent with less parenting time will pay child support to the party with more parenting time. Support is intended to cover the daily needs of the child, as all parents are financially responsible for their minor children.
How Can I Pay My Attorney's Fees? 
Both spouses should be on a level playing field during the divorce process. If one side cannot pay their legal fees, the court may order the other party to pay these expenses. There are many requirements one must meet when asking the other side to pay their legal fees. For example, the request must be included within the divorce petition or the response. The legal fees must also be reasonable and not considered excessive.
Our Divorce Attorney in Brandon Can Answer Your Questions 
If you are getting a divorce, you have a lot of questions. At Koether Law, our Brandon divorce attorney can answer them and make recommendations so you receive the fair settlement you are entitled to. Call us now at 813-347-8193 or contact us online to book a consultation with our experienced attorney and to get the answers you need.
Sources:
leg.state.fl.us/Statutes/index.cfm?App_mode=Display_Statute&URL=0000-0099/0061/Sections/0061.16.html
leg.state.fl.us/statutes/index.cfm?App_mode=Display_Statute&URL=0000-0099/0061/0061.html